The Reality of It (2012) is a work where the bodies of mass produced factory mannequins are corrected and transformed into custom bodies by building mass upon them in order to over achieve more socially responsible body figures. The artist retains some parts of the ideal as perpetuated by the original mannequin and adds additions of realistic proportions to the rest. By leaving parts of the mannequin unaltered, attentions are focused on the stark differences between what is idealised and what is reality. The two don't match and never will. The sculptured bodies lacking symmetry and perfection are very much removed from mass produced mannequins and are more in an abstracted line with the reality of the human figure. The new figures are everyone's body in one.



This work is licensed under a
Creative Commons Attribution-NonCommercial-NoDerivs 3.0 Unported License
.
Powered by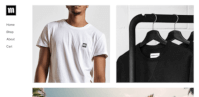 Create your own unique website with customizable templates.